BENEFITS OF OUR SOLUTIONS
More than a supplier, we work as a true partner and provide you with recommendations, based on your mobility data, so that you can reduce your costs, improve your productivity, ensure the safety of your drivers, and manage sustainable fleets.
Our Unique Approach
Our fleet management solutions uniquely combine three key elements, always included in all of our offers. The regular analysis of your KPIs is essential to our mission to help you improve fleet and operational performance.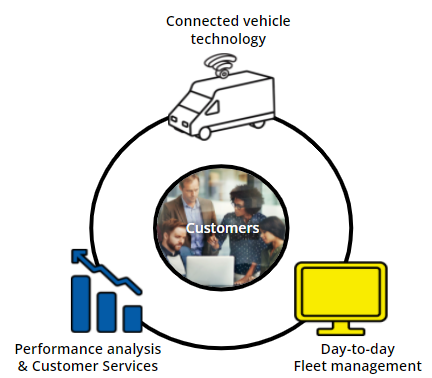 Our Differentiator
Performance Analysis Services
Smart report services with analysis and actions plans to improve performance.
Solutions tailored to meet customers' specific business needs and designed in collaboration with them.
Frequently asked questions
What is fleet management?
+
Fleet management, from a commercial road freight transport point of view, describes the processes adopted by Fleet Managers to maximize the safety, efficiency, and productivity of their daily activities.
These activities include purchasing or leasing the vehicles required, organizing which routes they should take each day, ensuring the vehicles are maintained and comply with the necessary regulations, training drivers to ensure their journeys are efficient, and more.
Achieving fleet management goals in terms of efficiency and productivity involves a combination of several factors. These are primarily:
Having access to real-time information and data about vehicles and cargo
Being able to monitor and improve the driving behavior of your workers
Being able to track the fuel consumption of your vehicles
Conducting regular preventative vehicle maintenance
Fleet management services and solutions will provide you with all of the tools and support you need to help your fleet operations and overall business to run more efficiently.
What does a Fleet Manager do?
+
Fleet Managers are the people who oversee fleet operations, ensuring everything runs smoothly on a day-to-day basis. As a result, they're usually in charge of the following tasks:
Fleet tracking: This is crucial for ensuring the safety of a fleet's cargo and drivers. It also helps Fleet Managers to ensure they have the capacity to react to unforeseen events, such as accidents and changes in road conditions that may require existing delivery routes to be modified. Fleet Managers can use connected fleet services and solutions that use technologies like GPS and IOT to maximize the visibility, efficiency, and safety of their operations.
Data analysis: By analyzing key performance indicators (KPIs), Fleet Managers can make more strategic decisions. Using driver behavior analysis to define new training requirements that will help to improve a fleet's fuel consumption is just one example of how keeping a close eye on the necessary KPIs can help a Fleet Manager to fine-tune their operations.
HOS management: Fleet Managers also need to ensure their workers' driving time and hours of service (HOS) recordings are correctly processed by electronic logging devices (ELD), following the current FMCSA regulations. MICHELIN Connected Fleet provides ELD reports so managers can monitor and analyze their workers' driving time to ensure compliance.
Vehicle acquisition: Defining vehicle acquisition needs and methods is a task Fleet Managers are usually responsible for. Data analysis and forecasting are vital for helping a Fleet Manager to make decisions about whether it's time to invest in more vehicles or even transition to a green fleet.
Ensuring drivers' safety: Ensuring workers always drive safely is one of the biggest challenges for most Fleet Managers. Using fleet management services and solutions can be incredibly useful for monitoring both vehicles and drivers in real-time. With the data collected, Fleet Managers can devise new and specific training plans to address recurring issues and improve drivers' behavior when they're in the field.
Driver retention: Preventing driver shortages is also a vital responsibility of Fleet Managers. Having a robust driver retention plan is essential for guaranteeing the best professionals will prefer working for you. It's important to build strong relationships with drivers and keep their overall work satisfaction rates high by providing internal and anonymized feedback channels.
Total cost reductions: In an industry where margins are usually low, cost management becomes critical. The role of the Fleet Manager involves creating a plan to minimize costs while maximizing productivity.
In summary, a Fleet Manager's role is key to helping companies compete in the transport and logistics industry. People in this role need to hold a solid knowledge of the sector, as well as be skilled in data analysis and people management.
What are the benefits of fleet management services and solutions?
+
Your business leaders, commercial drivers, and clients will see the benefits of you investing in fleet management services and solutions.
There are lots of short- and mid-term benefits, including being able to increase driver safety, reduce the costs of fuel and administration activities, limit the environmental impact of your operations, and provide customers with a better service.
There is also a huge long-term benefit of smart fleet management, which is that it provides Fleet Managers with the chance to secure sustainable and competitive advantages within their industries.
Who can benefit from fleet management services and solutions?
+
Transport and logistics companies are primed to benefit from fleet management services and solutions. This is because the technology will allow you to reduce your costs while improving your productivity. This can enable your business to grow sustainably, as you'll be able to handle more work efficiently.
Your clients will also see the benefits if you decide to invest in these solutions. Not only will they receive their deliveries faster due to improved route planning, but they'll also receive regular updates on their orders and when they'll arrive due to live fleet tracking.
Even other road users will experience the advantages of you using this technology, as driver safety will be improved thanks to in-cab feedback systems. Plus, Fleet Managers will have access to driver data, which you can use to inform your driver behavior training to help your workers to operate their vehicles more efficiently and safely.
Does your business need connected fleet management solutions?
+
If your business runs a commercial fleet, you can manage your daily operations more easily and see improvements to how it operates with fleet management services and solutions.
Managing a commercial fleet is a difficult task and doing it without the help of specialist technology makes it harder than it needs to be. Along with the different benefits that we've already outlined, using technology to manage your fleet will help your business to streamline admin processes and track data far more efficiently.
MICHELIN Connected Fleet has been designed specifically with Fleet Managers in mind — we're here to make your job easier.
What are the best fleet management solutions?
+
If you want to invest in fleet management solutions that will help you fine-tune and supercharge your processes, work with a company that will become a true partner. And, opt for a flexible solution that can be tailored depending on your needs and priorities.
With MICHELIN Connected Fleet, you won't just receive the hardware and digital platforms you'll need to collect data about your fleet. Our experts will also help you to analyze that data against your KPIs, providing you with recommendations and detailed action plans that are sure to help you reduce your costs and improve your productivity.
We also put a lot of effort into understanding our clients' specific needs and challenges, so we can help you overcome them. These tend to fall into five main categories that we can help you focus on, which are:
Cost control
Safety
Cargo maintenance
On-time delivery and productivity
Vehicle and cargo security
Additionally, when you invest in our services and solutions, you'll receive all of the customer support, performance analysis, and reports that you require at no extra charge. And, you'll have a dedicated account manager who can ensure that any requests, questions, or concerns you have are handled as quickly as possible.
From the installation of your hardware to providing you with smart reports and detailed action plans, MICHELIN Connected Fleet is here to help you at every stage. We've found this to be the most effective approach to helping Fleet Managers get the most out of their fleets. And, if you would like to experience the benefits for yourself, book a 40-day free trial with us. This will allow you to see the significant difference that our tools and support can have on your operations.