As more signs of the climate crisis continue to show themselves and governments across the globe set environmental goals for the coming decades, going green is becoming an increasingly urgent topic within the transport and logistics sector. And, as transport is now the biggest source of pollution in the UK, having produced the equivalent of 122 million metric tons of carbon dioxide in 2019 (Statista), fleet management will play a huge role in helping the entire industry to become more environmentally friendly.
It's vital that you're properly prepared so you can put your best foot forward and contribute to the collective effort of making the logistics sector more sustainable. So, let's discuss what you need to know about green logistics and the role fleet management will play in the transition.
What is green logistics?
The term "green logistics" refers to the efforts companies in the sector are making to reduce their impact on the environment. Sustainability hasn't always been a focus during the transportation, distribution, and storage of goods, but green logistics involves taking a more eco-conscious approach at every opportunity.
All logistics companies should aim to make a significant contribution to the industry's goals of going green over the coming years. And fleet managers will primarily be responsible for carefully monitoring their vehicles and drivers to identify ways they can shrink their carbon footprints. This is a pivotal time in the logistics space and a lot will change over the coming years to meet targets and make a real difference, so it's wise to get ahead of the pack and start improving your processes to make your fleet more sustainable now.
What should your green fleet management goals look like?
There are countless ways you can make your fleet more sustainable, and it's important to set measurable and time-tied goals so you can monitor your progress and ensure you're always on track.
Let's take a look at the main goals most fleet managers should be making right now.
Aim to significantly reduce your CO₂ emissions
If you aren't already taking serious steps to reduce your fleet's CO₂ emissions, now is the time to do so. Exhaust emissions cause the majority of environmental damage that fleets are currently responsible for, so it's a concern that deserves a lot of attention.
In order to significantly shrink your company's carbon footprint, you'll first need to calculate your fleet's current CO₂ emissions. You can get a rough idea of what your vehicles' emissions might be if you know exactly how many litres of fuel they use or how many miles they cover in a specific time period. But, the most accurate way to calculate this is with data-driven fleet management services and solutions like MICHELIN Connected Fleet.
Focus on improving your fleet's efficiency
Your fleet's efficiency can have a huge impact on its carbon footprint. So, you should always be looking for ways to shorten or combine journeys to reduce how much time your vehicles spend on the road.
Fleet tracking software can take a lot of the guesswork out of this process for you, as you'll be able to see exactly where your workers are driving and when. This will make it much easier for you to identify instances where fuel is being wasted.
Not only will optimising your drivers' journeys reduce their environmental impact, but it can also cut fleet costs for your business and improve your team's productivity. So, it's a great business move, as well as an eco-conscious one.
Encourage your drivers to get onboard
Going green will be far more difficult if your entire team isn't contributing to the cause, so you need to take steps to ensure all of your drivers are invested in your plans.
This is primarily because driver behaviour can have a huge impact on the carbon footprint of your fleet. So, to truly make a dent in your carbon emissions and transform your business into a green logistics company, they need to be just as passionate about your eco goals as you are.
You should provide your fleet drivers with training that focuses on sustainability, and equip them with fleet management solutions that will help them monitor their own performance, make improvements, and take pride in reducing the CO₂ emissions of their vehicles.
Make the transition to a green fleet
Transitioning to a green fleet is the most effective way you can reduce your team's carbon footprint right now. This involves investing in electric vehicles, which can be charged with renewable energy to make them as environmentally friendly as possible.
Of course, the main benefit of building an electric fleet is the environmental impact, but there are a lot of other advantages, too. For example, a green fleet can help you to significantly reduce your operational costs and will enable your drivers to access Clean Air Zones, which can help to slash their delivery times. If you're in a position to grow your fleet or replace your existing vehicles right now, going electric will do a fantastic job of slashing your emissions and preparing your company for the future.
How can MICHELIN Connected Fleet help your fleet go green?
MICHELIN Connected Fleet provides smart fleet management solutions that can provide you with a great deal of support when it comes to shrinking your carbon footprint. Knowledge really is power when you're looking to make more eco-friendly choices for your fleet, and our services and solutions will provide you with all of the data and devices you need to make better decisions.
There are so many different factors that will affect the results you get from your green logistics strategy, including vehicle maintenance, driver behaviour, and route efficiency. Our professional fleet management services are designed to help you monitor and optimise every element so you can reach your goals.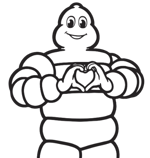 Other Interesting Stories