In the year ending June 2021, there were 119,850 road casualties and 1,390 reported road deaths in Great Britain, according to government figures. When you consider that an estimated one-third of road traffic collisions in Britain involve someone at work, excluding commuting journeys, and the risk of dying in a road collision when driving for business reasons is greater than dying as a result of any other type of workplace accident (The Royal Society for the Prevention of Accidents [PDF]), it makes sense that many organisations are very concerned about their drivers' safety.
Risky drivers can easily be identified after an event, for example, because of an incident, speeding ticket, or complaint. But what if you could reduce your drivers' risky behaviour before an incident ever happens? To help you keep your drivers safe, here are 10 training tips you can use to assess and improve your drivers' behaviour on the roads.
Introduce a safe driving policy
The first step in improving your drivers' behaviour should involve implementing a safe driving policy if you don't have one already. This should provide clear guidelines that your drivers can follow to keep themselves, their fellow road users, and your cargo safe.
This will also show your workers that you genuinely care about their safety at work, which is vital for building a strong and loyal workforce.
Hold 'toolbox talks'
On a regular basis, you should hold in-person training sessions where you can outline your expectations when it comes to how your drivers behave on the roads. Not only do you want to keep them safe, but your business's vehicles will also serve as rolling billboards that advertise your company and services. This means there's a real risk of poor road etiquette becoming associated with your brand if your employees don't conduct themselves appropriately.
It's important that your staff don't forget about the true risks for dangerous road habits like speeding or harsh accelerating and braking. Holding frequent meetings with them to provide reminders can be very helpful.
Provide instant in-cab coaching
Providing your drivers with instant in-cab feedback devices is one of the most effective ways to adjust their behaviour. These will provide your workers with immediate visual and auditory warnings whenever they exhibit risky driving moves. This can include if they're accelerating and braking too harshly or they spend too long idling. As a result, you'll encourage conscious and subconscious driving style adjustments, increasing the safety of your fleet overall.
Collect and analyse relevant data
You can use fleet management services and solutions to assess your fleet and identify any areas of concern. This will allow you to measure speeding events, as well as harsh accelerating or braking, and automatically create driver risk scores.
Not only will this show you what drivers might be struggling with across the board, but it will also help to show you who typically sticks to all of the relevant guidelines and who requires more training. As a result, you'll be able to spot and address any problems before they lead to accidents.
Focus your coaching efforts
Instead of frequently investing in expensive company-wide re-training, being able to collect driver behaviour data with the right fleet management solutions will allow you to focus on the people who truly need a refresher. This will help to keep your fleet as productive as possible, save you money, and allow you to dedicate enough time to each individual, increasing the likelihood of success.
Deliver actionable feedback
In order to give your drivers the best chance of making lasting behavioural changes, you'll need to provide them with specific feedback at the right time.
For instance, providing driver behaviour reports that are linked to street view on Google Maps could help to jog a driver's memory about a specific event that recently happened. This will give them a better idea of what they might have done wrong and what they should do differently next time, making the feedback more actionable. This will then help them to effectively adjust their driving going forward.
Develop a driver education program
You could consider setting a threshold of 'at-risk points' your drivers can accrue before they're automatically enrolled for compulsory external training. For example, this could be an online driver safety course, a speed awareness course, or a driver development seminar, depending on what their infractions have looked like.
This will help you to identify people who require more support when it comes to learning how to stay safe when driving for work. And, by providing them with the external training they require, you can help to greatly reduce the risk of them being involved in an accident. It's about being proactive, rather than reactive.
Give drivers access to their data
Not only will fleet management solutions like MICHELIN Connected Fleet allow you to collect driving data about your employees, but you can also share it with them. So, they'll be able to see their own scores, access tips for improvement, and get an in-depth driving style analysis with peer comparison.
As a result, it's likely your employees will pay a lot more attention to their driving behaviours, because they'll want to measure up against their colleagues. Plus, they'll be able to see where they might be going wrong so they can correct any recurring problems.
Incentivise good behaviour
Offering awards such as a 'Driver of the Month' accolade will give your drivers something to aim for. And, you'll easily be able to choose your winner based on the information that is collected and compiled by your fleet management solution.
Some of our clients have also seen success through publishing leaderboards to create some friendly competition and increase awareness.
Launch a fleet safety committee
Nominate representatives from relevant departments who will meet monthly to review recent incidents. During these meetings, they can discuss where improvements can be made, identify any drivers of concern, and put together an action plan to address any current issues. This will allow you to monitor and address your drivers' behaviour on a regular basis, so any problems aren't left to fester for too long.
Training risky drivers to improve their behaviour isn't an overnight fix, but it's certainly worth the effort. It can help you to keep your workers safe, save your company money, and ensure your fleet is always running as efficiently as possible.
Investing in fleet management services and solutions is one of the best things you can do for monitoring and changing your drivers' behaviour.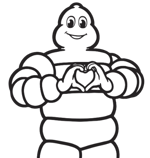 Other Interesting Stories
Compliance
How to Keep Fleet Data Safe
Fleet management solutions are now a well-established tool for running a more efficient and safer fleet. However, to reap the full benefits of a..
Improve safety
10 Tips For Training Risky Fleet Drivers
In the year ending June 2021, there were 119,850 road casualties and 1,390 reported road deaths in Great Britain, according to government figures...
Optimise productivity
Are You Fully Utilising the Fleet Data You're Sitting On?
The fleet management industry has come a long way in the last five years. At MICHELIN Connected Fleet, we have witnessed an undeniable shift in..